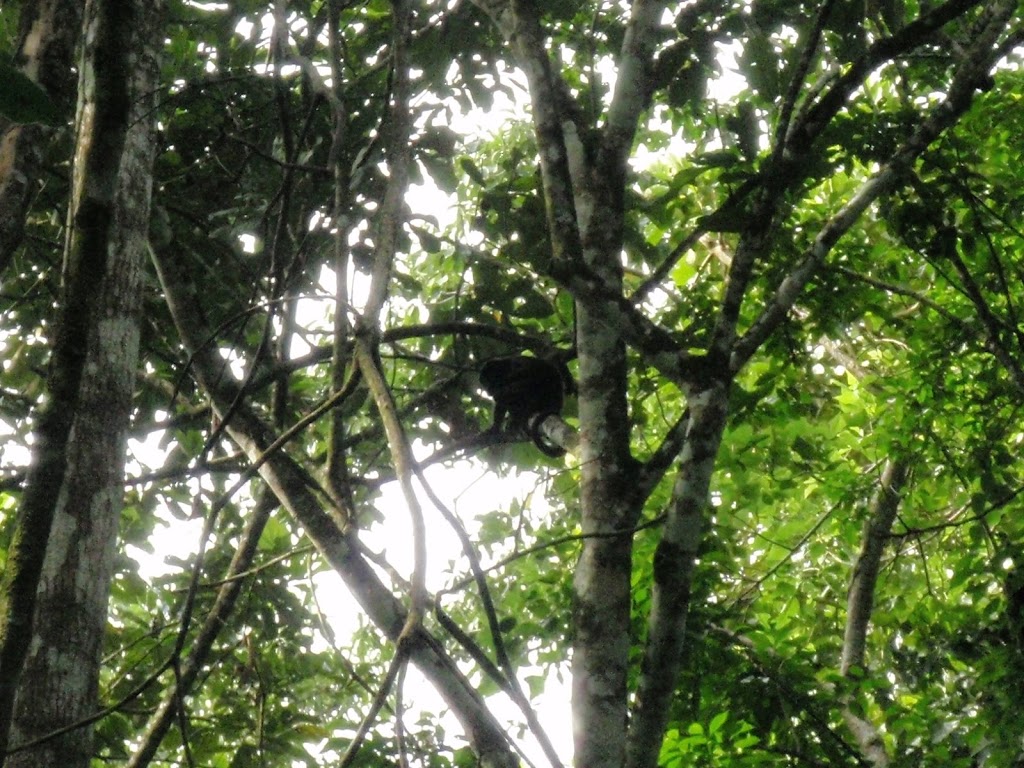 Early Sunday morning I boarded the Interbus (which is actually a van that seats 10) heading up North. I had contemplated renting a car and doing the 2.5 hour drive but renting a car here is a production. They want a $1,000.00 deposit, you have to get their insurance, most of the cars are manual and they never seem to have the compact cars in inventory so the only option is a 4x4 that costs double the price. After a few hours online and on the phone I opted for Interbus and I was really glad I did.
Interbus
is a company that picks people up from their hotel and drives them to their destination. It is cheaper than cabs or renting a car and there was only 2.5 other passengers in the van. It was a very beautiful ride up and our driver was really nice and played tour guide a bit on the drive. About half way through we stopped for sodas and bathroom breaks at a little souvenir shop.
I was dropped off at my tree house hotel around 11:00am. Yes, I said tree house. The Tree House Hotel is a bed and breakfast hotel with 5 tree houses (each very private) on 8 acres and surrounded by a 70 acre wildlife refuge with a waterfall and river. It was incredible. I was a bit early since check in is at 3pm so I took a walk/hike on the property. There are tons of fruit trees – star fruit, mangos, cacao, breadfruit, etc. It was very hot and humid and there were lots of mosquitoes. I wasn't prepared with this first walk so I was a nice little snack for the rainforest insects. I am currently sporting many quite attractive red bumps all over. I prefer to think of them as nature body art.
The whole place was extremely beautiful, peaceful and relaxing. When I returned about 1.5 hours later my tress house was ready. I stayed in the Toucan house, its two stories and small but comfortable. There was a nice little deck with table and chairs out front. Inside there is a full size bed, on one side of it is there is a shower room and the other side is the bathroom. Both have closing doors and everything but are open to the outside protected by a screen. Up the latter to the second floor was a little loft type area with another bed. Every time you walked or moved really the whole tree house would sway. It almost felt like I was on a boat.
The first day was kind of laid back since I didn't have any excursions planned. Walked to a little bar/restaurant down the street and enjoyed some Casique, it's known as the liquor of Costa Rica, and is made with sugar cane. It's very similar to rum. The owner of the hotel recommended an Italian restaurant for dinner. Juliani the owner is from Italy and makes wonderful Italian food and has a wood fire pizza oven. He was also kind enough to pick me up since I didn't have a car.
The second day I woke up to the loud sounds of the rainforest, including howler monkeys. I enjoyed a great breakfast of coconut French toast and fruit surrounded by tons of beautiful birds. Around the outdoor eating area hang several hummingbird feeders and wooden pillars with fruit on them. All of the birds fly around eating and playing while you eat. It was really quite spectacular with several different kinds of
hummingbirds, Amazon Kingfishers, Blue Crowned Mot Mots, and many other species
. A few hours later there were a family of howler monkeys hanging out in the tress and I got a pretty good view of them.
Around 2pm some of the other hotel guest and I went on a trip to the
Arenal volcano
. We were picked up by our tour guide who drove about 45 minutes to Arenal National Park. It was pouring rain when we got there; thank goodness I had a portable poncho with me. We started our walk up the side of the volcano, this is an active volcano I might add. About half way through our hike it cleared up and became to hot for the poncho. We had a great view of the volcano that is usually shrouded in clouds. Unfortunately there was no rumbling or lava action. We made our way back down and headed for
Baldi hot springs
. There are many hot mineral springs in the area that are heated by the volcano. This place, as with many of the other springs are tourist Mecca's. It was like a cross between Disney and Vegas. There are about 8 different hot spring pools that are different temperatures. A few of them have swim up bars and there is even a waterslide at the top pool. It wasn't very natural or relaxing as they had the loudest Mexican pop music blasting throughout the whole place and had more people than I prefer. I did enjoy the 113 degree pool though - muy caliente! I will spare the more boring details of having to pay for towels, getting dressed in a semi open locker-room and the buffet dinner. Overall it was a fun experience but I would prefer something a little less commercial.
We got back to the tree house around 10:45pm. When we arrived the night watchman was waiting for us at the gate. He is a bit of a nature enthusiast and took us on an impromptu night tour of the property. We saw several three toed sloths and lots of frogs. I don't know how but this man can spot almost anything in the dark. It was a great way to end the evening.
This post is getting very long so I am going to wrap it up by saying I really enjoyed the Arenal area. The climate and landscape are a lot different than the colony. It was a great side trip that reinvigorated my creative spirit. I am happy to be back to my studio though.