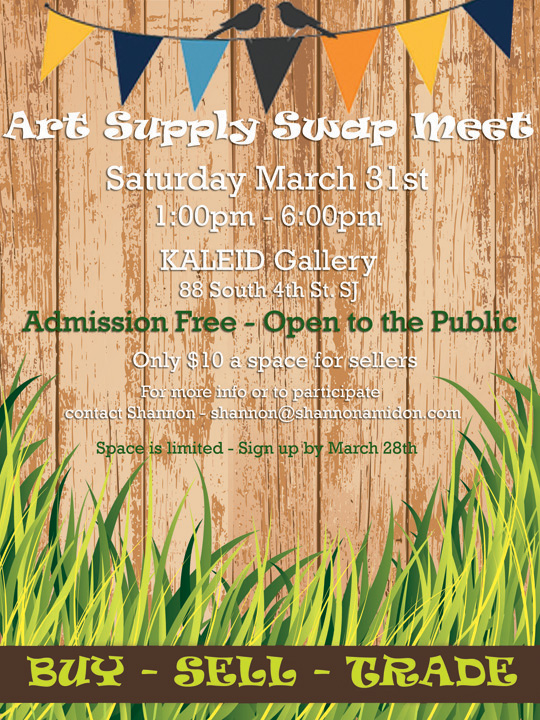 I am putting on an art supply swap meet and am looking for people who would like to participate. Here are the details.
Who: Everyone is invited to sell, shop or barter
What:
paint, paper, studio furniture, frames, tools, fabric, craft supplies, equipment, building materials, film, if an artist can use it then it's fair game.
Why: Reduce, Reuse, Recycle
Where: KALEID Gallery - 88 South 4th Street San Jose,
When: Saturday March 31st 1:00pm-6:00pm
Open to the public admission free
It's time for some Spring cleaning. Clean out your studio and head over to KALEID Gallery for a good old fashioned Art Supply Swap Meet!
Just $10 a space for anyone wishing to sell, and we accept donations of art supplies if you can't make it.
Space is limited; sign up by March 28th to participate.
For more information or to participate contact Shannon Amidon at shannon@shannonamidon.com
Info for participants:
Space is limited, sign up by March 28th to participate.
You must provide your own table
You are responsible for all sales
Set up is from 12:00-1:00pm
Break Down 6:00-7:00pm
Payment can be made before the event at KALEID Gallery by stopping in the gallery or calling (408) 947-1785 with your credit card.
All fees must be paid by March 30th.